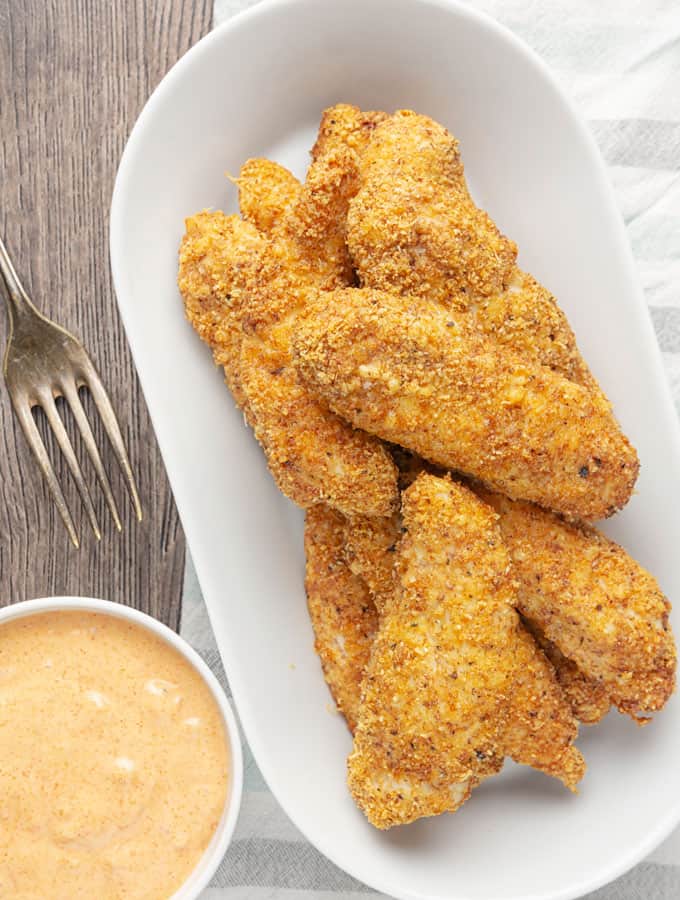 These Keto Chicken Tenders are the absolute best low carb breaded chicken tenders out there! They're so good and so easy to make in your air fryer!
Equipment
PHILLIPS AIR FRYER

Mixing Bowl

Measuring Cups

Measuring Spoons
Ingredients
1

 

pound

 (

453.59

 

g

) 

chicken tenderloins

1

 (

1

 ) 

Eggs

1/2

 

cup

 (

56

 

g

) 

Superfine Almond Flour

1/2

 

cup

 (

50

 

g

) 

powdered Parmesan cheese

, 

(the cheap stuff in the green can)

1/2

 

teaspoon

 (

1/2

 

teaspoon

) 

Kosher Salt

1

 

teaspoon

 (

1

 

teaspoon

) 

pepper

1/2

 

teaspoon

 (

1/2

 

teaspoon

) 

Cajun seasoning

, 

or cayenne, or chili powder
Instructions
In a small, relatively flat bowl, beat the egg.

In a ziptop bag, mix the almond flour, cheese, salt, pepper, and seasoning.

Get a paper plate or dinner plate ready.

Spray your air fryer basket with oil.

Dip each tender in the egg and place on the plate until all the tenders have been dipped. Don't try to dip it in the breading or else you'll have messy hands and clumps in the breading. Just line up the eggy tenders until they're all ready.

Now use a fork to pick up one tender at a time. Put that in the zip top bag and shake that bag like you mean it. Ensure the tenders are well covered in the almond mixture.

Do NOT dip in egg and breading again. Tried it. Hugely messy and less tasty.

Use the fork to pull out that tender and place it in your air fryer basket.

Spray the tenders with oil.

Cook at 350F for 12 minutes or until the inside registers 160F. Raise temperature to 400F for 3 minutes to brown the crust.
Don't Have An Air Fryer?
If you don't own an air fryer yet, I HIGHLY recommend that you pick one up! This GoWISE air fryer is a great air fryer and it comes with most of the accessories you'll want to use.
You can also make this recipe in the oven if you'd prefer. Just cook them at 375F for 15 minutes.
I've put together a list of the 21 Best Keto Air Fryer Main Dishes for you to try out. There's something for everybody on this list!
Did you know you can make a burger in the air fryer? My Air Fryer Montreal Steak Burgers are fantastically juicy, and flavorful!
If you aren't trying to keep things low carb, check out my delightfully crispy Air Fried Breaded Chicken Wings!
The air fryer doesn't just do savory! These Fruit Hand Pies are absolutely to die for and they're crazy easy to make in your air fryer!

Nutrition

Calories: 

280

kcal

 | 

Carbohydrates: 

4

g

 | 

Protein: 

33

g

 | 

Fat: 

15

g

 | 

Fiber: 

2

g

 | 

Sugar: 

1

g