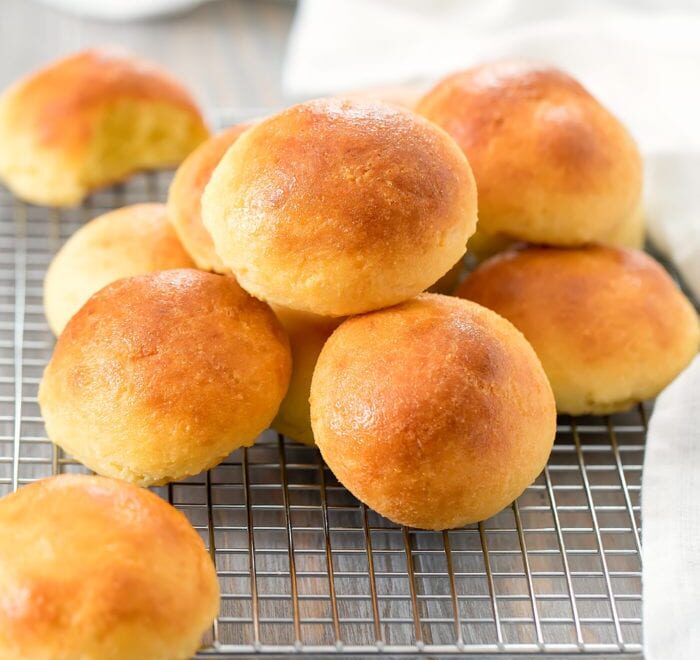 These fluffy bread rolls are made with fathead dough. They are gluten free, low carb and keto friendly, Low carb and gluten-free. These dinner rolls are not made with eggs OR cheese and taste incredibly close to regular wheat bread.
DURATION:
Yield: 5 | Prep Time: 10 Minutes | Cook Time: 10 Minutes | Total Time: 20 Minutes
INGREDIENTS:
1 cup (100g) almond flour
3/4 cup (50g) keto protein powder (i use casein protein powder)
1 1/2 tsp baking powder
1 tsp xanthan gum
1/2 cup (118ml) hot water
1/2 tsp salt
INSTRUCTIONS
In a mixing bowl, whisk together your almond flour, protein powder, salt, xanthan gum and baking powder.
Pour in the hot water and use a spatula to mix the ingredients all together until you get a nice dough.
It will be sticky to touch. Wet your hands and take a small chunk of the dough and form into a ball.
Place the rolls onto a cookie sheet lined with parchment paper.
Bake at 375°F / 175°C for 10-12 minutes or until they are a nice golden brown.
Notes
3.3 net carbs per roll.
Nutrition Information:
Yield: 5 | Amount Per Serving: Calories: 164 | Total Fat: 11.5g |CARBOHYDRATES: 5.7g | Fiber: 2.4g PROTEIN: 12g